PHIL 681: Philosophical Figures: Plato
Phaedo

,

Gorgias

,

Menexenus

,

Statesman

,

Timaeus
Spring 2011 Prof. Cherubin

M 7:20 - 10:00 PM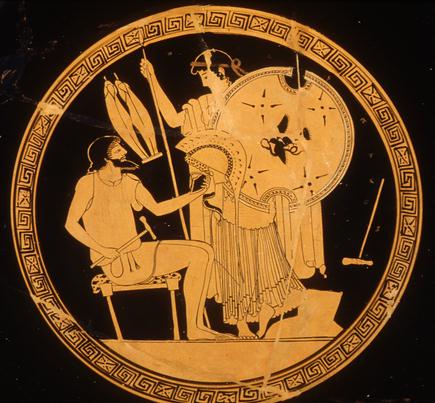 In the
Timaeus

, the character Critias presents an account of a divine

demiourgos

who fashions the universe out of available raw materials. A

demiourgos

was a craftsman, literally a worker of things for the people. The patron god and goddess of craftspeople were Hephaestus and Athena. Here Hephaestus is completing the wondrous armor that the hero Achilles wil wear. Waiting to receive it is Achilles' goddess mother, Thetis. The vase on which this painting appears also has images of excellent human

demiourgoi

, in this case sculptors. For images of the sculptors forging and finishing statues, click on this link to a page in the fabulous Perseus collection. (Warning: some of the images involve nudity, so exercise caution as to where you are when you click this link.)

Prof. Cherubin's main page See the "Sites of Related Interest" section for links to web projects, organizations, and other resources pertinent to ancient Greek philosophy.

Syllabus (.pdf format)

Reading assignments (both required reading and supplementary reading will be found here; updated weekly)

Writing assignments

Want to look up Greek words? Perseus has an online version of the Liddell-Scott-Jones Greek-English Lexicon. From the main page, click on "All search options" and then on "Dictionary entry lookup." In the drop-down menu, select Greek as the language. At the upper right, you'll see a table that shows how to indicate Greek letters using the Roman alphabet.


Guides for Writing in Philosophy
Beginning the research and writing process - an excellent presentation by the 2007-8 Philosophy Writing Fellow, Angela Panayotopulos

Writing Guide for Philosophy , by Philosophy Writing fellows in collaboration with Prof. Cherubin, with contributions by additional members of the Philosophy faculty, and with support from the Writing Across the Curriculum Program. (Includes some tips on citing ancient texts.)

Hermeneutical Principles: Interpreting ancient Greek philosophy


Other potentially useful links
GMU Writing Center

GMU Philosophy Department

Information for Philosophy Graduate Students at GMU

GMU Libraries

GMU e-reserves

GMU Libraries Style Guide Page (has links to online manuals and other resources for Chicago, MLA, and other citation styles)